Dell Latitude 3340
Powered by an Intel Core i3 Processor, 4 GB of DDR3L/1600 memory and a 500 GB HDD, the Latitude 3340 runs smoothly and cranks through basic tasks just fine. On the other hand, it's super tough. You could drop it on the sidewalk and it'd still deliver the sales projections for tomorrow's meeting. 
It's outfitted with both HDMI and DisplayPort. Its battery croaks after just 4.5 hours. This battery is removable, so you can swap in a spare.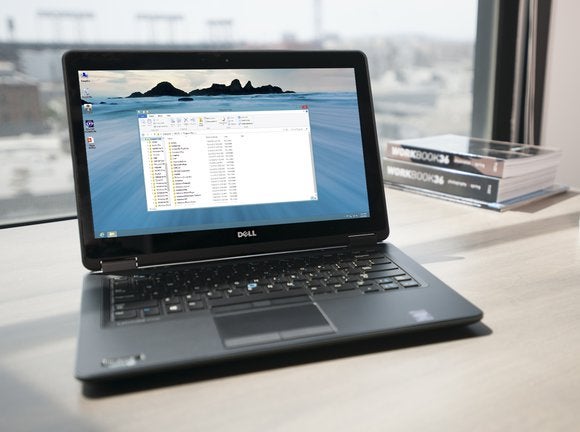 Tough and attractive
The Dell Latitude 3340 manages to be both pretty and rugged, its shell formed by the tough metal and carbon-composite material quickly gaining favor with higher-end PC makers. When gripped, the 3340 by the two ends and you try to twist it, it doesn't give one iota. 
Even the screen panel, a mere quarter-inch thick, barely flexes when the lid is whipped up by just its corner and snapped shut it again.
Design Features
The Dell Latitude 3340 has a gorgeous, non-glare, 14-inch touchscreen with a native resolution of 1366 x 768 pixels and the best off-axis viewing you have ever seen so far. The keyboard flexes in its middle and its keys bounce a little much, but they don't clatter and they render nearly every keystroke correctly. 
The slightly concave keys are nicely islanded from each other and offer just the right level of friction. Four levels of backlighting are available, which makes the computer easier to use and reduces the load on the battery when you don't need its brightest settings.
Business Connections
Too many Ultrabook designers drop important ports in pursuit of ever-thinner profiles. The DELL Latitude 3340 offers nearly everything you could ask for in a laptop this size, including hardwired Ethernet, HDMI, mini DisplayPort, an SD card reader, and three USB 3.0 ports. 
Many of these ports are located on the notebook's rear deck, which makes them a bit of a hassle to access. Dell outfits the Latitude 3340 with an 802.11ac Wi-Fi adapter. But if you find yourself frequently deskbound, Dell includes a docking station port on the bottom of the computer.
Collaborative Construction
 A 180-degree hinge allows the system to lay flat, making it easier to share content on the IPS touchscreens with Corning Gorilla Glass and up to 10x higher scratch resistance. When the Latitude 3340's battery dies even under grueling battery-rundown test, you can pull it out and slap in a fresh one.
That's a rare attribute of modern Ultrabooks, and it's a good thing because it takes more than 4 hours to not-quite fully charge the original.
General Specifications
Dell Latitude 3340
14" Display Touchscreen
Intel Core i3
4GB RAM, 500GB ROM HDD
Touchscreen