Syinix 65-Inch 4K UHD Black Android TV ( Frameless, Voice Remote Control )
Syinix 65-Inch 4K UHD Black Android
This Syinix 65-Inch 4K UHD Black Android delivers an advanced viewing experience so you get clearer pictures and more true-to-life content. Featuring a glossy design, it adds beauty to your space and perfectly blends with your décor and other electronics. With a color technology that displays colors as in real life, you'll enjoy all forms of content on your Synix 65 Inch TV.
So whether you love fast motion pictures or you are a fan of home video and drama, you can be sure whatever your preference is will always display in detail.
Meet Chromecast built-in
Chromecast built-in is a technology that lets you stream your favorite entertainment and apps from your phone, tablet, or laptop right to your TV or speakers. Syinix 65-Inch 4K UHD Black Android TV allows your phone and the tv to connect easily using the inbuilt Chromecast, which comes with google cast for android and airplay of iPhone (IOS)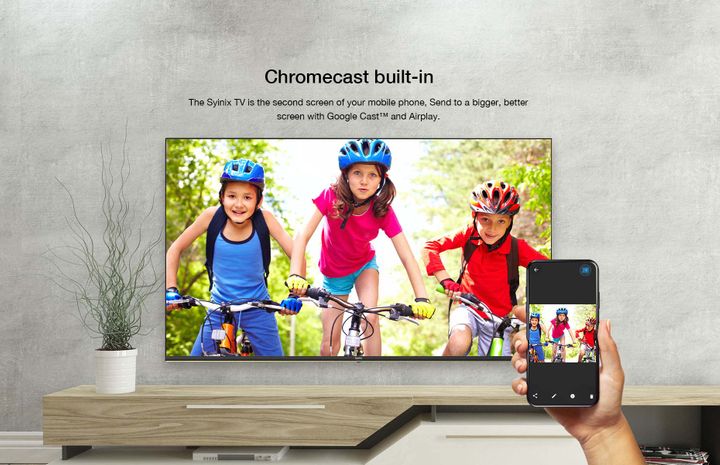 FRAMELESS DESIGN
A frameless design utilizes the entire screen so you can focus on the content as it uses a super-slim bezel. A screen bezel is an area that surrounds a screen or a border between a screen and a device frame.
The Syinix 65" 4K UHD Black Android frameless tv comes with this design for the perfect view.
The introduction of flat-panel screens has contributed in a massive way to frameless TVs. This is because, unlike old TVs that used cathode ray tubes (CRT), the modern LCD screen is flat. An LCD TV uses liquid crystals to switch the screen pixels on and off electronically. More current TVs use light-emitting diodes (LEDs) as backlights. This reduces the need for casings that were used in Old-style TVs.
Most screens are frameless on three sides, but some utilize a four-sided frameless design. A completely frameless design means that distractions such as menu control buttons, ON buttons, and logos are completely removed from the site. As a result, some TVs only have an ON button, and one has to use a remote to control the TV.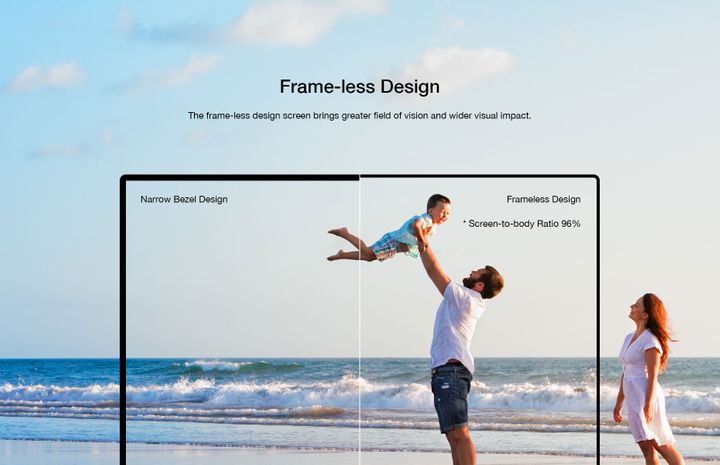 Syinix 65" 4K UHD Black Android TV features a wide 65 inches screen display with 4K UHD display type.
Enjoy:
HDMI,
USB,
Bluetooth connectivity,
voice command
play store,
in-built decoder.
Access pre-installed applications and add more applications on a Tv that is Wi-Fi ready.